Merissa & Francois - 23 July 2022 -





Thank you Andante for the beautiful and clean wedding venue! Our guests cannot stop talking about the beauty and the food! Even though it rained, there were SO many other spots around the venue to take photographs! The staff were professional, kind and very quick to problem-solve and handle an unruly guest. I will forever be grateful towards Andante and its staff.Definitely the top wedding venue in PE!
Tilana & Jacques - 09 July 2022 -





I hereby wish to thank Andante for the exceptional experience that we have had. Dominique and her team of Saturday....and Friday afternoon\evening.... was phenomenally supportive. She truly managed all situations that arose with gracefulness and always knew how to attend to it. She lead her team with strength and example. Thank you Dominique.We appreciate it tremendously. Also I want to compliment Maya and her team. The food was so appetising. Well prepared, enough and so beautifully set-up for the guests to enjoy. Many compliments were shared by the guests as to the tastiness of the food. The best they have enjoyed at a wedding in a while! Thank you Maya. The waiters too were great seeing to all that they were responsible for...friendly and helpful. Thank you! The DJ and barman also added to the success of the celebration! Thank you gentleman. Andante is a venue that I can definitely recommend to anyone wanting to have a great celebration.Thank you so much.
Kelly & Jacques - 19 March 2022 -





We would certainly recommend Andante for weddings, my husband and I were so blessed by excellent service on our wedding day and all the back and forth leading up to it. The in-house catering is incredible, endless photo opportunity spaces, spacious seating. From the minute we walked in, Helen made us feel most welcome and since then Dominique and her team were totally on the ball and executed the event with perfection! Thank you Andante for making our day a dream!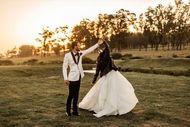 Jessica & Tim - 15 January 2022 -





My husband and I loved our wedding at Andante! Dominique and Helen made this whole process effortless and stress-free. Highly recommend this venue to anyone looking to get married! the grounds are impeccably kept and there is something for every type of person to enjoy. Thank you so much Andante for making our dream day a reality.
Al-Azhar Institute - 08 December 2021 -





I just wanted to thank you for everything, the venue was stunning and the food was delicious. A 10/10 for sure.
Monique & Jean - 04 December 2021 -





Andante is by far the best venue in town?beautiful well kept gardens, an amazing view of the river and trees, a large and beautifully white reception hall, the most adorable chapel!Aside from it being so beautiful, the staff and management are just so accommodating and helpful.We could not have hoped for a more perfect and beautiful wedding day, even though it ended up raining, management were able to have the day run seamlessly ? A big thank you to Helen and Dominique, could not have asked for better?
Taryn & Ruan - 02 October 2021 -





We would like to thank you for everything you and your staff have done to ensure that our dream wedding came true. We absolutely loved our day dispute the weather.
Shamima Davis - 19 April 2021 -





THANK YOU!!!!Dominique- Thank you for being such an amazing wedding co-ordinator! I truly appreciate all the assistance you gave throughout the planning process!Helen- Thank you for accommodating us at such a short notice! It was quite a late decision, but your team made it seem so seamless!We'll be back on our next trip to PE.
La-Nell van Eyk - 31 May 2018 -





Wow what a beauty of a place...Food was amazing and the service was great. It was so cold on Saturday but the owner made sure heat was in place, we had patio heaters and a boma to heat up the place.
Azlyn Hector - 07 December 2017 -





Everything was perfect. I am so grateful for these lovely people tannie troes en oom Jan. They prepared the chapel for us to be the first to use it. What extremely special people. Everything was perfect. Andante is an experience you have to experience for yourself. I can get married over and over again there.
Hanel Weidemann - 28 November 2017 -





Andante is die BESTE en MOOISTE venue ooit! Daar is geen beter plek om te trou nie. Die pragtige venue, smullekker kos, ongelooflike diens, en ekstra aandag vir detail is onbeskryflik! STUNNING!! Baie dankie tannie Troes vir al die moeite om my en Duain se dag so ongelooflik besonder te maak! You get married at Andante or not at all.
Maryam Gangat Mortimer - 10 July 2017 -





Wonderful staff, and Tannie Troes is just the best and sweetest EVER! Food was delicious too! Aunty Maya was amazing as well! Talk about superwomen!!! 1000 stars! Beautiful venue! Beautiful people! Only smiles ALL AROUND!!!!
Nieke Ebersohn - 05 July 2017 -





Baie dankie vir skitterende diens met my en Wessel se troue! Julle het verseker dat ons dag ekstra spesiaal was. Andante is asemrowend en ek is steeds verlief op die venue! Ek trou sommer weer!
| | |
| --- | --- |
|  | 46 Draaifontein Rd, Murray Park AH |
Using this site means you accept its
terms
| Copyright © 2022 Andante Venue, Port Elizabeth, South Africa
| website by